Braun FP3020 12 Cup Food Processor Review
The Braun FP3020 12 Cup Food Processor delivers. Equipped with an electronic control that selects any of the 7 blade speeds to process certain ingredients in the best way possible, it can chop, slice, mix, and knead using a 600 watt heavy duty DC motor. Bundled with accessories that make a crash course on being a gourmet chef as easy and as unlimited as possible, the unit comes also equipped with a Braun-designed silent operation technology that makes it possible to have a decent, normal volume conversation even while the unit is running. It starts at $158.90 and ensures only the best quality in food processing. It is the most compact model made by Braun.
Braun 12 Cup Food Processor Specification
Braun 
FP3020 

12 

Food Processor Features
The Braun FP3020 Food Processor uses a 600 watt DC motor rated for heavy duty operation, silence, and durability. The polycarbonate (plastic) bowl has about 2 liters of maximum capacity for liquids and up to 1 and a half kilograms of solids, such as dough and meats, fish, and fruits and vegetables, among others (bowls are officially rated at 9 cups of maximum capacity). With an electronic, step less variable speed control, the Braun FP3020 Food Processor can choose from any of the 11 preset speeds, ranging from 300 revolutions per minute (RPM), which is ideal for soft ingredients like onions, and up to 2000 RPM, which is for fine blending or making superb sauces and dips. This feature, combined with the unit soft pulse capability, makes for precision control in selecting the optimal and best speed for the task at hand. The bowls have a dual safety lock for security, ensuring that the bowls cannot be opened when the unit is in operation. The front panel control has quick a reference guide illustrated for easy indication and explanation of the different speeds that are recommended for certain tasks. Meanwhile, the bowls are made of durable polycarbonate material that are able to withstand repetitive operations, and are specially sealed to prevent overflowing and spillage of material. The Multiquick  FP3020 package includes, out of the box, a universal chopping blade that are engineered to be used for a variety of purposes, such as blending, chopping, mixing, and pureeing; a dough hook, a concession to the bevy of exotic accessories of food processors, but makes it mark in that I can knead up to 3 pounds of dough, which is a lot considering that the Braun Multiquick 3 FP3020 Food Processor holds 9 cups for liquid (wet ingredients) and 12 cup for dry ingredients; a cream attachment, a specialized accessory for excellent whips; and a versatile slicing set that includes a slicer, a shredder, and two graters (a coarse grater and a cheese grater); and finally a juicer that fits into the bowl. All removable parts and accessories of the Braun FP3020 food processor are dishwasher ready and dishwasher safe, so they can be disassembled for easy cleaning and maintenance. The entire unit has a pristine white finish with blue control knobs, weighs only 9.8 pounds (10.1 pounds when shipped), and is backed by a 1-year limited warranty.
Braun FP3020 Food Processor User Reviews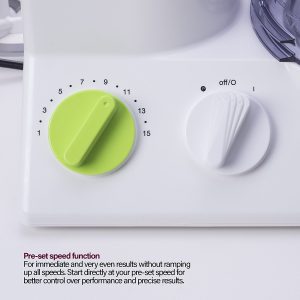 "Better than any food processor, better than a Cuisinart" – these are the words from the users themselves, who are particularly pleased with the operation of the Braun FP3020. First of all, the durable construction was also fantastic, they stated, but the real deal-clincher was the 11-speed electronic control with soft pulse, that could fine-tune the operation and the entire process for the optimal speed required for each food article or culinary task. This is excellent, according to users, than just having raw power and over-blend food more than necessary. The Braun FP3020 Food Processor is also more compact and lighter, and the quiet operation was considerably noticeable.
Conclusion
Cheaper, smaller, and though less powerful it more than makes up for it extremely precise control – these are the hallmarks of a Braun FP3020 food processor. A premium choice for any budget-conscious homemaker and a serious professional who wants a no-nonsense kitchen appliance, it features a 11-speed electronically controlled operation, a housing design that creates a sound barrier for unprecedented quiet procedures, and a space saving, compact design. The Braun FP3020 12 cup food processor is specially designed to meet anyone's kitchen needs and a must-have for any user.