KitchenAid KFPW760OB 700-Watt 12-Cup Food Processor Review
Introducing the Kitchenaid KFP760OB, one of the best KitchenAid made appliances in food processor industry. With a convenient maximum capacity of 12 cups and a unit powered by a 700-watt motor, users can kick back and relax, content that their KitchenAid appliance can fulfill and prepare any kind of food as easy as pressing a few buttons. With a gorgeous onyx black finish and starting at just $192.71, the Kitchenaid KFP760OB is a guaranteed friend in the kitchen and one of the most helpful appliances any homemaker will ever need.
KitchenAid KFPW760OB 12-Cup Food Processor Specification
Features of the Kitchenaid KFP756OB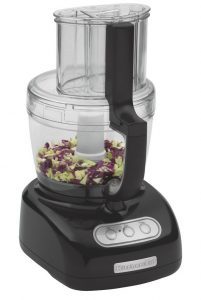 In a stylish onyx black design that is both elegant and modern, and like most food processors have two main components: the bowl, where food is placed to be prepared, and the unit proper, which houses the controls and the motor. The Kitchenaid KFP760OB food processor chops, slices, shreds, grinds, and just about does everything and anything to food that could be fitted inside the bowl. The bowl is constructed of enhanced polycarbonate with about 12 cups of maximum capacity, coming with a mini bowl with about 4 cups of capacity; both have their attendant, multi-purpose blades and accessories. Both bowls are made with a sealed design that prevents noise from escaping, ensuring a steady and quiet operation; it also features a pulse control that enables users to fine tune the blend or the mix of the food to levels "just right".  The bowls have dual feed tubes as well, so it can accommodate any size of food, from large to smaller ones. All blades are made of premium quality stainless steel (including the blade on the mini bowl); accessories include a 2 millimeter slicing disc, a 4 millimeter slicing disc, a 4 millimeter shredding disc, a spatula, and a dough blade, all ensuring that there is practically no limit to what the user can do in the kitchen. All removable parts, such as the bowls and its accessories, are all dishwasher safe, so they can be easily cleaned, stored, and maintained without great spending great effort and time – and the base of the unit has an easy-wipe surface as well. The included storage case, which comes in the box, are also meant to safely stow the accessories when not in use and provide a convenient single location in case they are needed again. The unit has a 700-watt commercial-grade induction motor, which can make short work of food – like pesto and cheese, and are powerful enough to handle any kind of food or ingredient its users can think of, but are consistent enough to provide reliable results. This Kitchenaid KFP760OB food processor measures 10-1/2 by 8-1/4 by 16-1/8 inches; and weighs around 26.3 lbs; it is backed by a 1 year free replacement warranty for defective parts or subpart craftsmanship.
KitchenAid KFPW760OB 12-Cup Food Processor Video Review
Kitchenaid KFP760OB User Reviews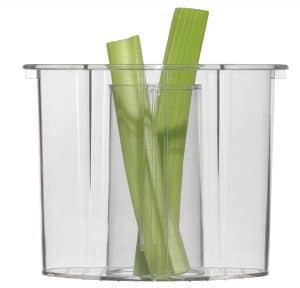 The massive amounts of reviews for the Kitchenaid KFP760OB food processors are mostly positive, and a lot of them are overwhelmingly positive, and unabashed users would often compare it with other brands (frequently more expensive ones) and say that it's better, or the best one out there. Users specifically cite its quiet operation which is about three or more times less noisy than other food processors, which tend to be very loud especially when processing large food items. There were, however, some complaints, and though minor to the unit's performance and price point, buyers should be aware of a few issues – the handle is prone for mildew growth, and the blades are a little more difficult to clean than other food processor blades. However, proper operation and maintenance, and little consultation on the supplied manual, can avoid these problems altogether, and the bottom line is that this food processor is a good and solid choice for a countertop appliance.
Conclusion
Kitchenaid KFP760OB Food Processor delivers – in performance, silence, and speed, and has an adequate space for any type of food the user may want to put in. Priced competitively, this food processor can become anyone's best friend in the kitchen.