Holmes Tower Fan Model Lineup
The Holmes Company proudly manufactures a line of products to keep the home comfortable including various types of fans. These fans are known for their reliability and usefulness. Before you buy a Holmes tower fan, make sure to choose the one that is right for you.
Tower Fan Considerations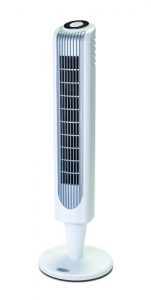 There are several considerations that you will want to keep in mind when shopping for the best tower fan to meet your needs. Some tower fans stand between 28 and 36 inches tall. These choices are great for those who want to cool an entire room. Others are shorter than 14 inches making them the perfect choice for tabletops and smaller rooms.
A second consideration that users will want to keep in mind is the type of oscillation that the fan offers. Some are designed to capture air and send it to a larger area than others. Those with wide oscillation can usually cool a larger room than those with smaller oscillation. This is a unique feature of Holmes fans and is their patented technology.
If you live in a smaller apartment or have a smaller room, then consider fans that are space savers. These Holmes products are usually the best tower fans for people who have limited space where they want to sit the fan. Many are highly effective at moving air.
The more speeds that a fan offers, the more comfortable a person is going to be as a general rule. The reason for this is that they can create their own comfort level. Generally, fans that offer more speeds can make a room cooler than those that offer fewer speeds.
Fans operate in different manners. While some people are very comfortable hitting buttons on top of the fan to get it to operate the way that they want, others would rather turn a dial. Other people want to be able to operate the fan by using a remote control allowing them to control the fan without getting up.
Keeping all these factors in mind, it is time to consider some of the tower fans offered by Holmes. Reading these tower fan reviews will help you find the one that is right for you.
Holmes Group HTF38138-BM 8-Speed Tower Fan, 38″
This fan offers eight operating speeds meaning that everyone can find their own comfort level. This Holmes fan comes with a remote, so there is no need to get out of your chair or the bed to change the fan's settings. The remote can easily be put into its built-in storage compartment when not in use. Therefore, losing the remote is never a problem.
Its space-saving design allows it to be used in areas where other fans may not fit. Users can choose between 90-degree oscillation or no oscillation. This fan weighs just under nine pounds, so you can easily move it from one location to another. It also has a carrying handle making it even easier to move. The fan stands 38 inches tall.
Holmes HTF1363B-BU 2-Speed Oscillating Mini Tower Fan, 14-Inch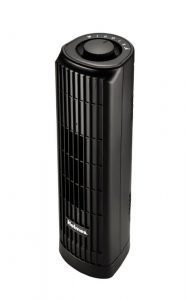 The Holmes HTFL363B-BU-2 fan by Holmes is the best tower fan for those who like to sit their fans on a table. This fan was specially designed to offer maximum comfort in smaller rooms and for personal use. Using this fan is incredibly simple because the user simply turns a large rotary dial located on top of the fan. This Holmes fan offers two operating speeds.
The fan comes with an integrated carrying handle, so the user can easily move it from one location to another. This fan is also easy to move because it weighs just over two pounds. Despite standing only 14 inches tall, it offers oscillation, so an entire small room is easily covered.
Holmes 36-Inch Oscillating Tower Fan
The Holmes 36-inch Oscillating Tower Fan offers a slim design that easily saves space. Located on the top of the fan is a large convenient rotary dial, so users can easily choose how they want the fan to operate. Making it even easier to operate this fan, it comes with a four-button remote control. This fan offers users an eight-hour timer. This fan received a green award for being energy efficient. This Holmes fan has three speed settings, so everyone should find the one that is most comfortable for their situation. Additionally, this fan offers wide-speed oscillation allowing it to cool larger rooms like bedrooms and living rooms.
Holmes Mini Black Tower Fan, HT17MBK-U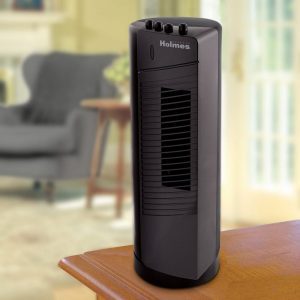 The Holmes Mini Black Tower Fan stands just 6.6 inches tall. Therefore, it is the perfect size to fit in a dorm room or other places where options like a ceiling fan are not feasible. This fan weighs just four pounds, so it is easy to move with you throughout the day. It also offers an integrated carrying handle making it even easier to cover.
This model offers wide-oscillation, so breezes can be captured from and sent to any area. Operating this unit is as simple as pushing the buttons on top of the fan. Users can choose between three operating speeds allowing them to create the perfect environment for them.
Holmes HTF3303A-BM 33-Inch Tower Fan
The HTF3303A-BM fan by Holmes stands 33 inches tall. This fan offers five speed settings. Users can either operate this fan by pushing the buttons on top of the fan or by using the remote control. The buttons on the remote control are large and easy to locate. This fan offers a five hour setting, so if the weather is changing in the middle of the night, users can program it before they go to bed.
A bright LED display on top of the unit allows users to see what the fan is doing at a glance. Users love the wide-oscillation that this fan offers, as it allows them to cover a much larger area than more traditional oscillating fans. This fan can be set for breeze during the day when temperatures are usually at their warmest or set to sleep for quieter operation at night. The space-saving design of this fan helps ensure that it fits almost everywhere that you want to use it.
Wrap-Up

As you can see, Holmes offers many different tower fans. The best tower fan is the one that meets your individual needs the best. Keep the size of the fan, the number of speeds, the importance of a remote, and other factors covered in this tower fan review to choose the right unit.
There are a lot of wonderful Holmes fans on the market so finding a good one is easy. Since the 1980s, this company has made reliable products that have enhanced the lives of many consumers.