Honeywell Tower Fan Model Comparison
Ever since Schuyler Skaats invented the first electrical fan in 1882, people have counted on them to keep them cool in the summer, provide background noise while they are sleeping, and help control odors in their homes.
Today, manufacturers make three different types of fans (not including ceiling fans). Table fans are usually smaller fans that easily fit on a shelf or table. These fans often move just enough air for one person or a very small group. Pedestal fans stand on a long pole and offer more cooling power, but the air often flows above a person's head. Therefore, many people find that the best fans for them are tower fans that sit on a base on the floor delivering air movement at just the right level.
If you are looking for the best tower fan, then make sure to consider those made by Honeywell. Choosing the right one, however, can be tricky so follow the advice in this tower fan reviews article to pick the right one. Consumers have a number of different choices when considering Honeywell tower fans.
Number of available speeds
Air cleaning capabilities
Level of noise
The best Honeywell fan is the one that is best based on your individual needs.
Number of Speeds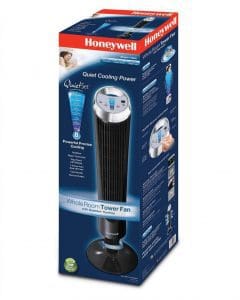 The larger the area that you are cooling, the more speeds that you need on the fan. Like many manufacturers, eight speeds is the largest number that you will currently find on a Honeywell tower fan. One choice is the Honeywell HY-280 that offers the ability to oscillate the fan allowing the breeze to get to many corners in a large room. This fan is easy to control using the buttons on top of the fan or the remote control. It offers an LCD display that tells you exactly what the fan is doing. Some users, however, say that the LCD display is too bright if they are using the fan in a dark room.
Users choosing the HY-280 also have the ability to set the temperature that they want the room and the fan will turn on and off as needed. The fan offers a place on the base to store the remote when it is not needed, so keeping up with the remote is easy. This fan is very convenient because it offers automatic shut-off that can be adjusted from one hour to 24 hours. This fan offers 90-degree oscillation, so multiple people in the same room should be able to feel the effects of the air moving. Some users complain that this fan is noisier than other choices on the market.
Alternatively, if you will be cooling a smaller room, then you do not need as many speeds. The more speeds you have, the more energy it takes to operate the fan. Therefore, Honeywell offers three-speed fans like the HY-048BP. This fan offers many features similar to the HY-280 including touch-button control, programmable thermostat and the ability to oscillate. The remote for this fan offers a flashlight which is a nice feature if you plan on using the fan in a bedroom.
While this fan does come with an automatic timer, the maximum it will operate is 12 hours. This fan offers a large LED light display so that it is easy to see if you have the fan set the way that you want. Some users find that the LED light display's brightness bothers them while sleeping, although it is easy to cover up the display by draping a towel over it. This fan weighs just a little over 10 pounds, so you can easily move it from one room to another if you desire. Be aware that some people find that this fan has more wobble to it than other available models. Many love the fact that this fan operates extremely quietly. This is a nice feature if you like a fan blowing during the night as it will not wake up even light sleepers.
Air Cleaning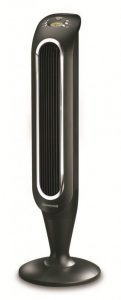 Many people choose to operate a fan to help a room smell better. Honeywell has made this even easier by offering fans with ionizers that contain a filter that can be sprayed with room deodorizers. One such fan is the HY-048BP three-speed fan offering a removable, washable air filter. The filter is designed to trap pollen and dust. It easily removes and washing it is a breeze. Like many of Honeywell's fans, this oscillating fan offers a one to 12-hour timer and a remote with a built-in flashlight.
It also features a programmable thermostat so that you can determine how cold you want an area to get before the fan turns itself off. Remember, however, that it is not an air conditioner. Therefore, this fan may never get a room cold on the hottest summer days. Moving this fan around your home is easy because it comes with a built-in handle. The base to this fan is removable allowing you greater flexibility in where the air will move. This is an entry level fan. Therefore, some people find that the base is cheaply made. Some also complain that this fan produces more noise than other comparable models.
Noise
Many people find that they sleep better when they are listening to the sound of a fan blowing in the background. These people will want to consider the Honeywell QuietSet series. These fans offer different levels of noise ranging from power cool to sleep. Therefore, everyone can choose the one that is right for them.
Most of these Honeywell models offer a remote control making it easier to operate. The QuietSet 40 also offers a one to 8-hour automatic shutoff. This fan comes with its own area to store the cord and remote, so it can be easily put away when users do not need to use the fan. The QuietSet 40 is the most expensive Honeywell tower fan.
Choosing the Best Honeywell Tower Fan
The best tower fan is a personal choice depending on which factors is most important to you. If you want the ability to move a lot of air, then choose the Honeywell HY-280 with its eight different speed levels. Alternatively, if you are looking at saving energy and have a small room, then consider the HY048BP, as it offers three speeds of comfort. If you use a fan mainly to help mask odors, then you may also want to consider the HY048BP. If you cannot imagine sleeping without the noise of a fan, then consider the QuietSet40.
Regardless of the Honeywell fan that you choose, you can trust that they are exceptionally well made. They are usually covered by a one year or longer manufacturer's warranty. Now, that you have read this tower fan reviews article, you are prepared to choose the best one for you.