Ozeri Tower Fan Model Comparison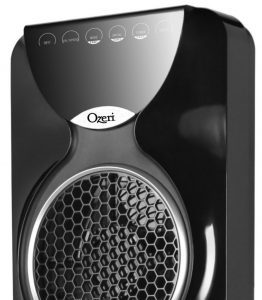 The first electrical fans made their appearance about 1880, and many manufacturers were making the first oscillating fans by the turn of the century. It was not until many years later that Ozeri entered the market when they started making tower fans for luxury resorts around the world.
Today, people can enjoy the comforts of using an Ozeri fan without having to travel. Before you purchase one, however, it is important to choose the best tower fan to meet your needs. Ozeri makes three tower fans, so consider these tower fan reviews before arriving at a final decision.
Ozeri 3X Tower Fan
The Ozeri 3X Tower Fan is one of the most unique tower fans on the market because it contains three individual fans within the same unit. Therefore, users can choose up to nine settings, so comfort is almost always assured. Those who live in small apartments or live in other cramped quarters need to especially consider this fan because it is only 3 inches thick ensuring that it will fit easily into many different areas. This black and chrome fan stands on a reinforced glass base, so it fits easily with almost any décor.
This fan introduces Ozeri's unique curved blades generating opposing sound waves helping to reduce blade noise from the fan while producing optimal air circulation. At the same time, the noise from the fan produces a quiet sound that many users find soothing which may make it the perfect addition to a bedroom. The Ozeri 3X tower fans are incredibly easy to use because it comes with three preprogrammed airflow patterns. Making this fan even easier to use, buyers receive an extended range remote control allowing them to control the fan's movements without having to leave their beds or easy chairs.
The fan also has a large LED control panel that is touch sensitive allowing users to control the fan without the remote. Users of this fan never have to worry about remembering to turn it off because it comes with a 7.5-hour timer allowing users to determine how long they want the fan to run in 30-minute increments.
Ozeri Ultra 42 Inch Wind Fan
The Ozeri Ultra 42-Inch Wind Fan is a white fan that features fan blades from the top of the unit to the bottom in a more traditional design as opposed to the Ozeri 3X Tower Fan's three individual fans. In independent testing, it was found that this fan produces greater air velocity with less noise than most comparable fans. This fan operates extremely easily because it comes with three preprogrammed airflow patterns.
The Ozeri Ultra fan is adjustable in height from 32 inches to 42 inches so that maximum comfort can be easily achieved. This fan comes with a 12-hour timer that users can set in one-hour increments. While most comparable fans offer a blue LED screen to show what the fan is doing, this fan offers a multicolor display that many users find is not as intrusive when they are trying to sleep. When buyers get this fan home, they must slip the base onto the fan. This simple process requires no tools.
Ozeri 360 Oscillation Tower Fan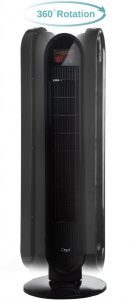 Unlike the two previous fans that oscillate only 90 degrees, the Ozeri 360 Oscillation Tower Fan can oscillate a full circle. Users, however, can choose to just have the fan rotate 60, 90 or 120 degrees depending on their individual circumstances. This fan produces its air movement by using 200 micro-blades that are staggered. This greatly cuts down on the amount of noise generated by this fan. Many users also report that this fan does not provide a burst of air, so lightweight items stay in place when the breeze hits them.
Using this fan is easy because it comes with three preprogrammed airflow patterns. In addition, this fan is easy to use because it comes with an extended range remote control with large easy raised icons so that users do not have to read small print to get the fan to do what they want it to do. It is easy to tell what the fan is doing by looking at the multicolored LED screen conveniently located on top front of the unit. This fan offers users the ability to dim the LED screen at night which is a great option if using the fan in bedrooms. Like the remote, it uses icons so telling what the fan is doing is very easy.
The fan's display also allows users to tell the room temperature at a glance. Users never have to worry about remembering to turn the fan off because it comes with an eight-hour timer that is easy to program. This fan is lightweight making it convenient to move from one location to another. Also, making it easy to move, the fan comes with a convenient built-in carrying handle. This white fan stands 38 inches tall.
Choosing the Best Tower Fan
Ozeri makes three wonderful tower fans. The best one for you depends on your individual circumstances after you have read these tower fan reviews. All of the fans have many features that are similar including remote controls, portability, and preprogrammed ways to get the air moving. If you are going to use the fan in a bedroom, then consider the Ozeri 360 Oscillation Tower Fan or the Ozeri Ultra 42 Inch Wind Fan, as the displays on these fans are not as bright.
If you have a very small comfort level between being too hot and too cold, then consider the Ozeri 3X Tower Fan with its three fans that can be operated independently. While all three fans have the ability to set the timer, the 3X Tower fan is the only one that offers the ability to control the fan in 30-minute increments. If you find yourself often adjusting the fan in the middle of the night, then the Ultra 42 inch Wind Fan with its raised icons on the remote may be a great choice for you. If you live in a home where multiple people often gather in one room, then the Ozeri 360 Oscillation Tower Fan may be the perfect choice because the air will get to more people.
Other Considerations
There are a few basic things that you can do to improve a fan's performance regardless of which one you choose. Cooler air is located near the floor, so never put the tower fan on a raised surface and expect maximum cooling efficiency. Secondly, fans depend on a source of air, so positioning the fan in front of an open window or door improves its performance. Finally, placing a bowl of ice water at the base of the fan allows it to spread cooler air throughout the room.