Best Espresso Machine Under $200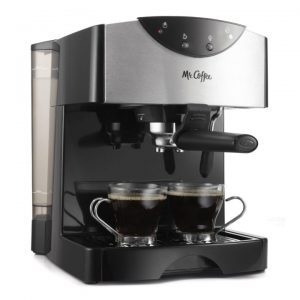 Fancy a cup of espresso? Well, let's be honest, who doesn't! After all, this concentrated coffee beverage, which is made using a special type of brewing technique, is widely consumed due to its delicious taste and distinct aroma. It wouldn't be wrong to say that a cup of espresso is just what you need to satisfy your taste buds and gain the energy you need to get through the day! In this guide we will help you find the best espresso machine under $200.
It isn't always possible to get a cup of espresso from your nearest Starbucks outlet. For this reason, it's a great idea to own an espresso machine of your own so that you can enjoy a terrific cup of espresso whenever you desire. But let's face it, choosing an espresso machine can be an overwhelming experience, especially since there are countless brands and models available to choose from.
There is something for everyone out there; it's just a matter of finding the right one for you! Don't quite know how? To help you out, we have prepared this guide which compares 8 of the most popular under $200 espresso machines on the market, highlights what each has to offer, and discusses the key things to look for when making a final decision. So, let's get started then, shall we?
Espresso Machine Comparison
| Image | Product Name | Type | Dimensions | Ratings | Price |
| --- | --- | --- | --- | --- | --- |
| | Mr. Coffee ECMP50 Espresso/Cappuccino Maker, Black | Automatic | 11.4 x 13.7 x 13 inches | 8.2 / 10 | |
| | De'Longhi BAR32 Retro 15 BAR Pump Espresso and Cappuccino Maker | Semi-Automatic | 10.6 x 8.7 x 12.6 inches | 7.1 / 10 | |
| | Nespresso Inissia Espresso Maker, Black | Semi-Automatic | 12.6 x 4.7 x 9 inches | 9.1 / 10 | |
| | Nespresso Pixie Espresso Maker, Electric Titan | Super-Automatic | 12.8 x 4.3 x 9.2 inches | 9.4 / 10 | |
| | Philips Saeco HD8327/47 Poemia Top Espresso Machine, Stainless Steel | Semi-Automatic | 9.1 x 11.8 x 12.6 inches | 6.9 / 10 | |
| | Mr. Coffee Cafe Barista Espresso Maker with Automatic milk frother, BVMC-ECMP1000 | Semi-Automatic | 12 x 14 x 12.2 inches | 8.3 /10 | |
| | De'Longhi BC0330T Combination Drip Coffee and Espresso Machine | Semi-Automatic | 14.5 x 11 x 12.8 inches | 6.0 / 10 | |
| | De'Longhi EC702 15-Bar-Pump Espresso Maker | Automatic | 11 x 9.1 x 11.6 inches | 6.8 / 10 | |
Espresso Machine Reviews
Mr. Coffee ECMP50 Espresso/Cappuccino Maker, Black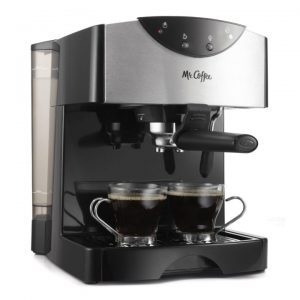 Manufactured by one of the most renowned coffeemaker brands in the US, the Mr. Coffee ECMP50 espresso maker comes with a thermal block heater (which heats water evenly and fast) and a 15-bar pump system to deliver rich, crema-topped espressos.
The espresso and cappuccino machine features single and double shot porta-filter for serving size options. Press the frothing tube and the milk is frothed and steamed to perfection for cappuccinos and lattes. It also includes a removable drip tray and 40 oz removable water reservoir for easy refilling and cleaning.
The Mr. Coffee ECMP50 is quite easy to operate, even if you are a beginner – it also includes a comprehensive manual to make things easier! Most consumers loved the compact design the espresso machine has to offer and the elegance it gives to their kitchen's countertop.
Unlike other espresso machines out there, Mr. Coffee ECMP50 doesn't keep you waiting too long to make espressos as the machine heats up pretty fast. It produces high-quality espressos, and with the steaming feature, rest assured the milk froths and steams well.
The espresso maker features parts that can be detached easily, making cleaning an effortless process. All in all, the Mr. Coffee ECMP50 is an excellent espresso/cappuccino machine for its price and allows you to make delicious espressos and cappuccinos that you will definitely enjoy.


De'Longhi BAR32 Retro 15 BAR Pump Espresso and Cappuccino Maker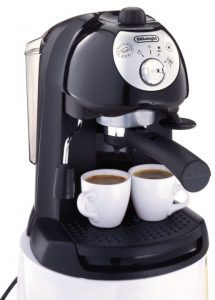 The De'Longhi BAR32 Retro is perhaps one of the best espresso and cappuccino makers, and for good reason. Where most espresso machines use either ground coffee or coffee pods to make espressos, this Italian espresso maker lets you use either freshly ground coffee or pods thanks to its special dual feature.
The pods are loved by many consumers for their convenience, and of course, the terrific cup of espressos they deliver every time. This De'Longhi model also comes equipped with dual temperature controls and thermostats, which means you can regulate the temperature of your espresso to achieve that perfect cup of brew.
Another great feature of the De'Longhi BAR32 Retro is that most of the relevant parts are made from stainless steel of the highest quality, ensuring that this espresso maker lasts you for several years to come.
This particular model also features a frothing arm to steam and froth the milk, and its self-priming feature makes sure a delicious cup of espresso is delivered in much less time. Moreover, the purchase of this machine gives you access to De'Longhi's call center, for effective customer support.
The De'Longhi BAR32 Retro surely packs a punch for its cheap price, makes excellent tasting espressos and cappuccinos while being easy to clean as it can be disassembled and reassembled, allowing for faster and simpler cleaning.


Nespresso Inissia Espresso Maker, Black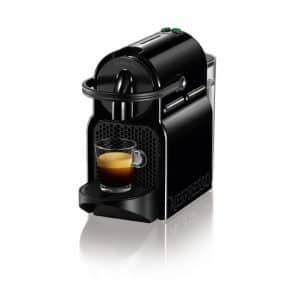 One of the best things about this smart espresso maker is that it comes with a class A Rating (which means it has a tiny footprint), making the Nespresso Espresso one of the most energy-efficient espresso makers on the market. Not only this, it also comes with a useful auto shut off feature, turning the machine off after 9 minutes.
Although the espresso machine can only make espressos using Nespresso coffee capsules, rest assured you will always be delivered with espressos that have a unique aroma and well-balanced taste, as it only uses espresso grounds of the highest possible quality for each of its capsules.
This particular model from Nespresso is very compact and comes with an ergonomic handle, ensuring it fits perfectly into any kitchen, no matter how small it may be. The espresso maker is not only small but also quite fast as in just one touch, the water in the machine reaches ideal temperatures to brew that perfect cup of espresso you desire.
Another feature worth mentioning is that the espresso machine is equipped with two programmable buttons to make either espresso or lungo. Also, on purchasing your capsules with the Nespresso Club, you get access to 24/7 technical support and receive personalized advice at every step of the way, which is great!


Nespresso Pixie Espresso Maker, Electric Titan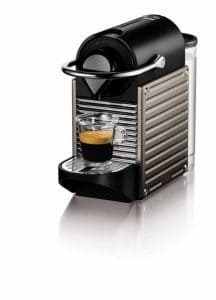 Another single-serve espresso machine from Nespresso, the worldwide pioneer in coffee capsules, accessories, and makers, Pixie is currently the #1 Best Seller in the Super-Automatic Espresso Machines category on Amazon.
Although slightly heavier and larger than the products in the Nespresso series, Pixie's specifications aren't that different from Inissia. It comes with two programmable buttons for lungo and espresso, with the coffee-making process taking a mere 25 to 30 seconds in just one touch, which is quick.
As the name of the espresso machine suggests, Pixie is small and compact to easily fit on most kitchen shelves and cabinets. Since it isn't that heavy, it can even be carried by you during your travels using the ergonomic handle.
Where the Nespresso Inissia is classified as a semi-automatic espresso maker, Pixie is a super-automatic machine that offers complete automation when it comes to crema extraction. It makes a terrific tasting cup of espresso from start to end, that too, with a simple push of a button. The espresso machine also features an auto power-off – just like the Inissia – that helps to reduce energy costs.
The design also includes a folding cup tray, 24-ounce water tank, water level detectors and backlight indicators. And since each machine comes with a welcome set of 16 Nespresso capsules (each having a different aroma), it is safe to say that Pixie is a winner in the coffee machine industry, available at a modest price.


Philips Saeco HD8327/47 Poemia Top Espresso Machine, Stainless Steel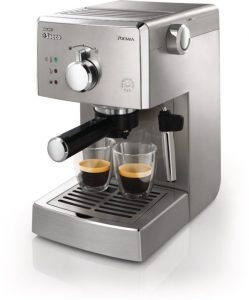 At a glance, the Philips Saeco Poemia looks like one of those espresso machines you would see at a coffee shop, courtesy of its stainless steel body and cup-warmer. This means it can be used to warm cups before use, which helps to keep the crema and flavor of your espresso tasty and consistent.
The espresso machine comes with a special dual feature that lets you use either pre-filled coffee pods or ground coffee. Many consumers appreciate this feature in espresso machines, and why wouldn't they anyway? After all, sometimes you just want to enjoy a delicious, aromatic cup of espresso without having to load the filter yourself or grind your own coffee beans.
The Philips Saeco has a stainless steel boiler, so you can expect it to last a long time, even with heavy use. However, at the same time, cleaning and maintaining the machine is vital for optimal, consistent performance.
Moreover, the espresso machine features a 15-bar pump pressure and a patented porta-filter, so rest assured it will always deliver true Italian espressos. And since each individual espresso machine is tested by Phillips before being shipped out, the chances of receiving a faulty maker are close to none.
The machine can also be used to heat water for a cup of hot chocolate, tea and more. All things considered, the Philips Saeco is an extremely efficient, multipurpose espresso machine worth its modest price!


Mr. Coffee Cafe Barista Espresso Maker with Automatic milk frother, BVMC-ECMP1000
The Mr. Coffee Cafe Barista is both portable and aesthetically pleasing, making it an espresso machine that can be the centerpiece of any kitchen. This espresso maker is ideal for first-time users as it isn't complicated to use, and features a one-touch control panel, which allows you to brew up single or double shots of espresso, lattes, and cappuccinos.
If you are a fan of frothy espresso, the Cafe Barista has an automatic milk frother (which lets you choose the froth level) that turns the milk into a creamy, light foam. And its 15-bar pump system ensures the maximum amount of flavor is extracted from each coffee granule to give you a delicious and rich cup of espresso.
This espresso machine is easy to clean as it comes with a removable, washable water tank and drip tray, making cleaning a hassle-free process. Other features include a measuring tamper, which not only helps you ensure that the coffee is evenly placed in the container, but also enables you to brew easily, and a porta-filter that helps to deliver proper espressos every time.
On purchasing the Cafe Barista, you are also treated with coffee recipes that you can make and enjoy yourself at home. The only drawback to using this espresso maker, according to some consumers, is that it's slightly noisy to use at first. However, despite that, the espresso machine has received an excellent rating on Amazon and is available at a fairly modest price.

De'Longhi BC0330T Combination Drip Coffee and Espresso Machine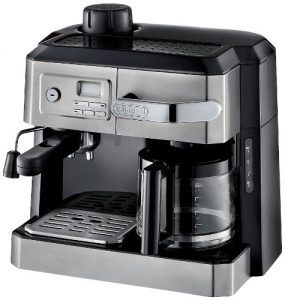 The De'Longhi BC0330T is a machine built for true coffee enthusiasts as it allows you to brew different kinds of coffee. Since it incorporates both a coffee drip maker and espresso machine, it may seem to be intimidating at first. However, rest assured this combination machine is easy-to-use and very efficient once you get used to it.
Using a traditional drip system to brew coffee and bar-pump pressure to produce espressos, the De'Longhi BC0330T comes with programmable settings such as temperature and brewing strength for both coffee and espresso and is capable of using both espresso pods and coffee grounds. With the adjustable steam, you can froth and heat the milk to produce terrific espressos, cappuccinos, and lattes.
One particular feature worth mentioning is the machine's chlorine filters, which remove the taste of chlorine from the water before you brew, enhancing the overall taste of your espresso. It also comes with an indicator light to let you know whether or not your espresso machine is safely off. The red light, on the other hand, cautions you to be careful as it indicates the machine is hot.
The De'Longhi BC0330T has a 24-hour programmable digital timer, which can be set to brew whenever you need it. The machine also comes with several support options, including a multi-language manual that provides troubleshooting tips and an FAQ's section to assist you in times of need.


De'Longhi EC702 15-Bar-Pump Espresso Maker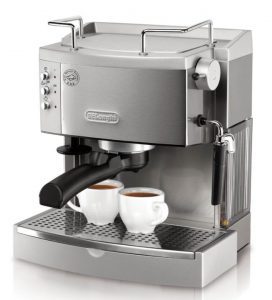 The most expensive espresso machine listed here, De'Longhi's EC702 is an impressive espresso maker that comes with a wide range of features. With a smooth profile and solid design, this espresso machine fits beautifully on any kitchen countertop.
If you are an espresso geek and want to get a terrific tasting cup of espresso, the De'Longhi EC702 features a patented dual function holder, which not only makes brewing easy and fast but also allows you to use both ground coffee beans and pods. The two separate thermostats control steam and water pressure to help you make cappuccinos and espressos at the perfect temperature.
This espresso maker also comes with a self-priming operation that eliminates time-consuming start-up preparation. You can make your espressos faster, without having to wait for the boiler and element to reach ideal temperatures. In addition, with the warming tray, you can rest assured your cup of espresso remains ready and warm for you.
The De'Longhi EC702 produces the perfect espresso every time, thanks to its stainless steel boiler and 15-bar pump. Moreover, if froth is an essential part of your espresso experience, you will find the patented system frother useful as it enables you to make creamy, rich froth for your lattes and espressos.
The machine's anti-drip design and removable water tank make cleaning a hassle-free process. While the steaming wand of this espresso maker does not function as efficiently as other machines out there, all the other features offered by the De'Longhi EC702 overshadow this minor imperfection. Overall, this espresso maker is great for its price, and offers quality that cannot be beaten!


Espresso Machine Selection Guide
Finding the best espresso maker to make a perfect shot at your home can be a tricky experience. With a wide range of options available on the market, it can be difficult to determine which machine suits your needs, and more importantly, produces great espressos. However, to help you out, we have highlighted the key factors you should consider when shopping for an espresso machine:
Ease of Use
If you have never used an espresso maker before, you are better off looking for a machine that is convenient and easy to use. There are several different models available on the market, which automate much of the espresso making process. In fact, you will come across espresso makers that will allow you to make those complicated espresso drinks at a simple push of a button.
Build Quality
When you are in the market for an espresso maker, you should consider what materials have been used to make it. More often than not, the build quality of a machine is directly related to the price. The more expensive the espresso maker, the more likely it is to last longer as it made using high-quality materials.
Machines made from high-quality materials will also deliver delicious espressos and look better on just about any kitchen top. Looking at reviews and brand reputation can give you a clear idea of how long a particular model will last you. In addition, the warranty offered on the machine will indicate what to expect in terms of durability.
Array of Features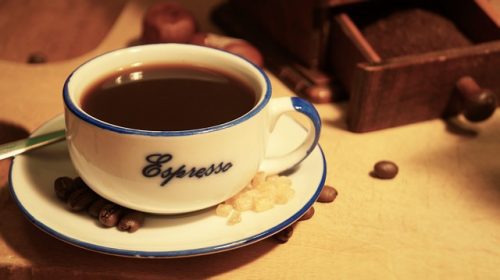 "What features to look for when buying an espresso maker", you may wonder. While everyone's needs are undoubtedly different, having the following array of features on your machine will ensure you enjoy a perfect cup of espresso every time:
• Frothing Arm
Although most espresso makers available on the market come with a frothing arm, it is essential if you enjoy your espressos with steamed milk, and will enhance the overall taste of your espresso.
• Built-In Coffee Grinder
Freshly ground coffee can make a huge difference in flavor, so looking for an espresso machine that has a built-in coffee grinder can add convenience. Not only this, it will also help you save counter space, as it will eliminate the need to get a separate coffee grinder.
• Programmable Settings
Programmable settings will allow you to program your machine to brew the way you like, making things easier for you in the future. In fact, some espresso makers also can be programmed for multiple people, so that everyone can enjoy their perfect shot of espresso without much effort!
• Water Filter
The overall flavor and taste of your espressos will also be dependent upon the quality of water being used. Hence, machines featuring a water filtration system would help remove any excess chlorine or lead in the water.
• Cup Warmer
Espresso makers with a cup warmer are useful as they help retain the cream and keep your espressos warm for longer.
Conclusion
Espressos are a huge part of our daily routines and for good reason. They taste delicious and provide the energy boost you need to get through the day, so it makes sense to save money on coffee shop runs and buy an espresso machine to make a perfect cup of espresso at home.
However, while the aforementioned espresso makers are the best under $200, with each having their own pros and cons to offer, choosing one comes down to your needs and the kind of espresso drinks you enjoy.
Once determined, compare your preferences against the specifications of these machines, and hopefully, you will be able to find an espresso maker that helps you save money as you don't have to go to Starbucks and produces the terrific tasting and distinctly aromatic espressos you truly desire and deserve!
Related Posts