Best Waffle Maker Reviews
Cereal, toast, eggs and other routine breakfast foods can get boring day after day. There is nothing in the morning that will brighten faces more and break the normal breakfast routine than a fresh baked waffle or two. They can be eaten with a variety of toppings, and these toppings can be fun for the whole family to put on. That is why it is a great idea to add a waffle maker to your list of kitchen products. The problem is with so many to choose from how do you know you are purchasing the best waffle maker for your needs?
That is how we can help you. We have taken the time to test many of the most popular waffle makers in the marketplace and come up with what we think is a list of the eight best waffle makers for the money. The list takes into consideration such important characteristics as price, looks, and performance. If you are searching for a waffle maker, it can be a very handy selection guide for you to say the least.
Waffle Maker Comparison
| Image | Product Name | Baking Consistency | Best Feature | Shape | Ratings | Price |
| --- | --- | --- | --- | --- | --- | --- |
| | Hamilton Beach 4-Piece Belgian Waffle Maker (26020) | Good | 3 year Warranty | Square | 8.2 / 10 | |
| | Cuisinart WMR-CA Round Classic Waffle Maker | Good | Low Cost | Round | 8.7 / 10 | |
| | Oster CKSTWFBF10MR-ECO DuraCeramic Flip Waffle Maker, Candy Apple Red | Better | DuraCeramic nonstick coating | Round | 8.7 / 10 | |
| | T-fal SW6100 EZ Clean Easy to Clean Nonstick Sandwich and Waffle Maker with Removable Dishwasher Safe Plates, 2-Slice, Silver | Better | T-Fal nonstick surface | Square | 8.2 / 10 | |
| | Chef's Choice 852 Classic Wafflepro 2 Square Waffle Maker | Better | Fast Cooking | Square | 8.6 / 10 | |
| | BLACK+DECKER WMD200B Double Flip Waffle Maker, Black | Better | Rotating Cooking Plate | Round | 9.0 / 10 | |
| | All-Clad 99012GT Stainless Steel Classic Round Waffle Maker with 7 Browning Settings, 4-Section, Silver | Best | 7 Browning Settings | Round | 9.3 / 10 | |
| | The Smart 4-Slice Waffle Maker | Best | Waffle IQ Technology | Square | 9.3 / 10 | |
Waffle Maker Reviews
Hamilton Beach 4-Piece Belgian Waffle Maker (26020)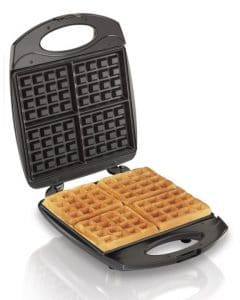 Hamilton Beach is well-known for making very good appliances for the kitchen, and this outstanding and affordable waffle maker is no exception. With this model waffle maker, you can turn out batch after batch of delicious tasting waffles that come out perfect each time. The folks at Hamilton Beach have made a waffle maker that makes baking them so easy for you.
This model is great if you like waffles that are crispy on the outside yet still moist inside. It produces four square waffles that have deep grooves in them that are excellent for holding toppings in place too. With this ideally priced waffle maker you can have restaurant-style waffles at home anytime you want them. A handy indicator light tells you when this waffle maker is at the perfect baking temperature to use.
Cleanup could not be easier with this model too. It has a handy built-in channel to catch overspills and keep from making a mess. The cooking grids themselves are made of a nonstick coating that makes them very easy to clean also.
It is a good looking waffle maker too that will not be an eyesore on any kitchen counter. It also conveniently folds so it can be stored upright in any cabinet to save space.
This product is only 5.5 x 12.5 x 14.9 inches so it still leaves you plenty of counter space to do other things such as mix batter and prepare other breakfast items such as fruit too.


Cuisinart WMR-CA Round Classic Waffle Maker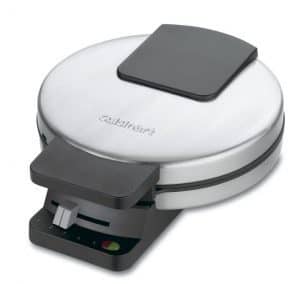 The name Cuisinart is synonymous with excellent kitchen products. They have an outstanding reputation for building quality products that last. This is a very good waffle maker at a very inexpensive price. If you purchase this highly rated product, you are assured to make excellent batches of delicious waffles every time you go to use it.
What makes it so good? For one it has a wide variety of settings for an inexpensive waffle maker. These include indicator lights to tell you when the unit is properly preheated and another to tell you when your waffles are done baking. It also has 3 different browning settings, so your waffles turn out exactly how you and your family like them each and every time.
The unit makes generous portion round sided waffles that are easy to remove from its nonstick cooking surface. This Cuisinart waffle maker turns out light and fluffy waffles, not heavy and rock hard like some waffle makers leave them. The nonstick cooking surface not only makes the waffles easy to remove intact but it also makes cleaning this waffle maker a snap too.
How much confidence does the manufacturer have in this product? You would have to say a lot when they back this affordable waffle maker up with a full three-year warranty. That makes this waffle maker an excellent all-around purchase.


Oster CKSTWFBF10MR-ECO DuraCeramic Flip Waffle Maker, Candy Apple Red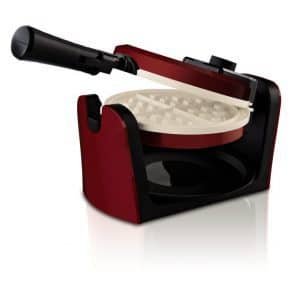 This nice waffle maker by the reputable company Oster is the most unique waffle maker on our list. It has a commercial quality waffle maker look and feel to it. Oster has also designed a waffle maker that you don't need to put away after using because it will blend nicely into any type countertop. It's also built very sturdy with solidly attached metal handles that are wrapped with protective stay cool grips.
This waffle maker is not only solidly built but is designed well for waffle baking also. The temperature controls and indicator lights for this waffle maker are located on top of the unit which is unique and innovative. It is clear much thought went into the design of this model before production was ever started.
This Oster waffle iron makes four decent sized round cornered waffles. The cooking is done on what Oster refers to as its "DuraCeramic non-stick coating". It will help your waffles bake up to 20% faster and also the nonstick coating will not peel off after repeated use of the waffle maker. It also has a commercial flip-style design that fills the cooking grid completely for even baked and good looking waffles.
The patented DuraCeramic non-stick coating allows for very easy cleanup. This is the waffle maker of choice for you if you like a well-designed, somewhat unique and affordable waffle maker all in one model.


T-fal SW6100 EZ Clean Easy to Clean Nonstick Sandwich and Waffle Maker with Removable Dishwasher Safe Plates, 2-Slice, Silver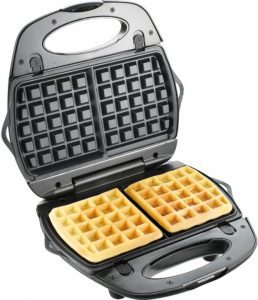 This is perhaps the most interesting and versatile waffle maker on our list. It can make two classic style waffles, or you can remove the interchangeable waffle plate to toast hot pockets or grill sandwiches. This is a great model waffle maker that is small and easily transportable, yet still gets the job done right. Those who have purchased this model waffle maker and tried it rave about how well this waffle maker works.
Cooking with this model waffle maker is fairly simple. Once you plug it in a red indicator light will tell you the power is on, and a green indicator light will tell you the temperature is just right for making your tasty waffles. A few minutes of cooking time later you will be enjoying a great waffle breakfast.
Clean up is easy with the nonstick T-fal surface on the cooking grids. These grids are also removable and dishwasher safe. You will not find an easier waffle maker to clean. Once the unit has been washed, it folds and locks upright for easy cabinet or counter storage.
The small size and versatility of this unit make it ideal to take with you because it's so portable. It is great for taking with you camping if your site has electricity or for bringing it over to a friend's house to speed up your tandem waffle making process. Its affordable price also makes it a great gift for any college student's apartment too.


Chef's Choice 852 Classic Wafflepro 2 Square Waffle Maker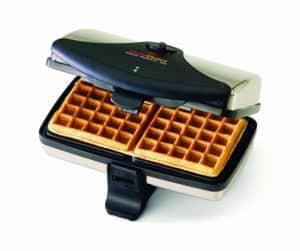 Chef's Choice has designed a sleek little two slice waffle maker here but don't let yourself be fooled. This company is well-known for designing and making superior kitchen products and this waffle maker keeps up with that tradition. It would be a fine addition to any home kitchen where some of the residents love a fresh homemade waffle as opposed to one that comes frozen out of a box.
The minute you take it out of the package you will notice how good this waffle maker looks. It has a nice chrome metal finish with shiny and sturdy black plastic accents in several places. It is a very solidly built home waffle maker.
We were very impressed indeed with the speed this waffle maker bakes a batch of waffles and in the recovery time before more batter can be added too; you can virtually bake almost nonstop with this brand waffle maker. Not only does it cook fast but the waffles it produces are the thin crispy style that many people prefer over thicker and doughier Belgian waffles.
One unique thing we noticed about this product is that even when we forgot to spray the grid with cooking oil the waffles still did not stick to the surface. That in itself was quite impressive.
The nonstick cooking plates make for very easy clean up too. It even has an overflow channel that will direct excess batter onto a plate you place under the opening. This waffle maker also stores upright to save valuable counter or cabinet space. It is a very well designed and put together kitchen product.


BLACK+DECKER WMD200B Double Flip Waffle Maker, Black
Black & Decker does wonders with small electric devices and this handy little waffle maker is out of that mold too. It really does a nice job making a rapid batch of waffles for the whole family to enjoy. This waffle maker not only does more than some models that are priced much higher but it looks great and is easy to use too.
This fine waffle making product is impressive even before you even first cook on it. Once you take it out of its box you can tell it is a sturdy and well-built waffle maker. It also has a sleek black finish and a very professional look to it. You would not be surprised if you saw a waffle maker such as this in the kitchen of a fine restaurant.
When making waffles this unit comes about as close as you can get to making perfect golden brown waffles each and every batch you cook with it. It all starts with the handy rotating cooking plate that delivers the batter evenly over the entire cooking surface. It has extra deep grids for making waffles that hold their toppings nicely and have the perfect texture too. Its dual cooking grids help you make two nice size waffles at once.
The waffle maker can be safely turned when cooking because the handles stay cool while using it. The stay-cool handles even lock into place while cooking for extra safety too. Cleanup with this product is also very simple because of its nonstick cooking surface. Black & Decker did a really good job designing this waffle maker.

All-Clad 99012GT Stainless Steel Classic Round Waffle Maker with 7 Browning Settings, 4-Section, Silver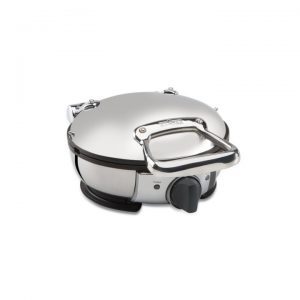 Every once in a while when we do reviews we come across an exceptional kitchen product. That is exactly the category that this waffle maker from All-Clad easily falls into.
It even looks like the classy piece of kitchen equipment it is with its all stainless steel exterior. It is every bit as good as any commercial waffle maker that you can buy.
Part of the beauty of this product is how simple it makes cooking waffles that come out looking and tasting great every time. It has not one but seven browning settings so your waffles will turn out exactly how you like them every time you bake. The ½ inch deep grid cooking plates bake the entire surface of the waffles evenly on your preferred browning setting. The deep cooking grids also help you easily separate the 4 generous size waffle portions it creates.
The cooking process is helped even further by an indicator light that tells you when preheating the grids is complete and when your waffles are done cooking. No need to open the top several times to check and see when your waffles are done. It even has a steam injection feature to keep the center of the waffles moist. This waffle maker does just about everything for you except pour in the batter. It is really incredible how it simplifies the waffle baking process.
It also includes a built-in overflow channel to catch the batter without making a mess and the baking grids are made with a fully non-stick surface to further help with cleanup. It is one of the priciest waffle makers on our list but with all the features it has, it's definitely worth the extra money you spend on it.


The Smart 4-Slice Waffle Maker
Last on our list but certainly, not least is this amazing waffle baking product. It is like having an extra person in the kitchen with you while you make your waffles. It is the most expensive waffle maker on our list but it, would not be out of place in any fine restaurants kitchen. It is really that great a waffle maker.
This is by no means a little waffle maker that you take with you when you travel. It is a solidly built beast that does an excellent job of making near perfect waffles each and every time you use it. It even looks the part of an awesome waffle maker with its shiny all stainless steel surface and very unique 'cast aluminum' cooking plates. It feels like it's extremely well put together when you hold it.
How does it make perfect waffles consistently? It's because of its incredible built-in waffle IQ technology. You choose the type of waffle you want and the way you liked it cooked and this unit will automatically choose the proper cooking time. This model waffle maker pretty much insures in no time at all you will be making the best waffles you ever had.
Cleanup could not be easier with this amazing waffle cooker either. You won't make much of a mess in the first place with its large overspill moat that will catch any excess batter. You also will not find any cooking surface that is easier to clean than this model's nonstick cast aluminum surface. Everything about this waffle maker exemplifies a quality kitchen product.

Waffle Maker Selection Guide
Important Characteristics of a good Waffle Maker
Here is a list of some characteristics that make for a good waffle maker. Each waffle maker you buy may not have all of them but they should have most of them.
– Nonstick Surface
There are not many things you prepare in your kitchen that are harder to clean than pancake batter. When it dries it sticks to surfaces like glue and has to be scraped off. That is why it is important to make sure your waffle maker has a good non-stick baking surface on it.
– Pre-heat Indicator light
Proper temperature is a must if you want your waffles to turn out good. If the temperature is not high enough they will be doughy and if it is too high they will be rock hard to eat. That is why a preheat indicator on a waffle maker is needed to let you know the perfect cooking temp has been reached.
– Upright Storage
Waffle makers have long been known to take up too much precious cabinet space. Only the bulky high-end models should be allowed to do this. All other should fold into an upright position for easy storage.
– Flip Top
Flip tops are rare on waffle makers but they can definitely help you make the perfect waffle. When turning the flip top it distributes the batter evenly over all of the ribs in the cooking grid. This ensures that the consistency of the browning is even throughout the baking process.
How to Prevent Your Waffles from Sticking to the Cooking Surface
Here are three great ways to keep hard to clean waffle mix from sticking to the cooking surface.
1. Make sure you put the egg yolks in your waffle mix too.
2. Add just the right amount of cooking oil.
3. Evenly coat your cooking grids with nonstick cooking spray
Great Waffle Making Recipe
– Here Is A Time-Tested Recipe For Making Delicious Waffles
2 cups of flour
2 tablespoons of baking soda
2 tablespoons of sugar
1 teaspoon of salt
(Mix in a separate bowl the following)
2 eggs – beat them up
2 cups of milk
2 tablespoons of melted butter (microwave 15 seconds)
1 teaspoon of vanilla
Mix both together.
Which Model is Our Choice as the Best?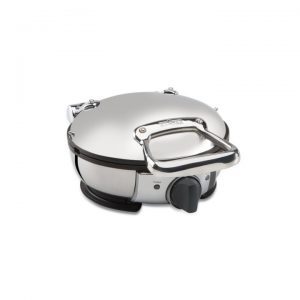 We are going to go with the "All-Clad 99012GT". You might say it's too easy just to choose one of the most expensive ones on the list as our favorite but we, really think this waffle maker is a great value for the money you spend on it. It does not fit into everyone's budget but for those that it does, they will definitely be one step closer to making perfect waffles every time their family wants them.
From its great nonstick surface to the additional steam feature this model waffle maker really impressed us. What put over the top as far as being our preferred model was definitely its amazing 7 browning settings. No two people like their waffles exactly the same and with this kitchen product they no longer have to. It is an amazing waffle making machine.
Conclusion
Having the right waffle maker can make all the difference between having the perfect family breakfast or having a miserable and unsatisfying breakfast experience for all.
So get the best waffle maker for your money to ensure you get it right. We have guided you on what makes a good waffle maker and ones with those characteristics are out there if you look.
Our list has some of the best waffle makers you will find in the marketplace in an assortment of price ranges. The models listed here achieve good to excellent waffle baking consistency, are well built and easy to clean. So the next time you get a craving for a delicious waffle at home, refer to this list before you make your purchase so you make sure you get one that is the absolute best value for your money.
---
Resources
[1]
purewow.com
: 22 Things You Can Make in Your Waffle Iron
[2]
wikihow.com
: How to Use a Waffle Maker
[3]
foodnetwork.com
: Can You Waffle It?