Ceiling Fan Basics You Should Know Before Buying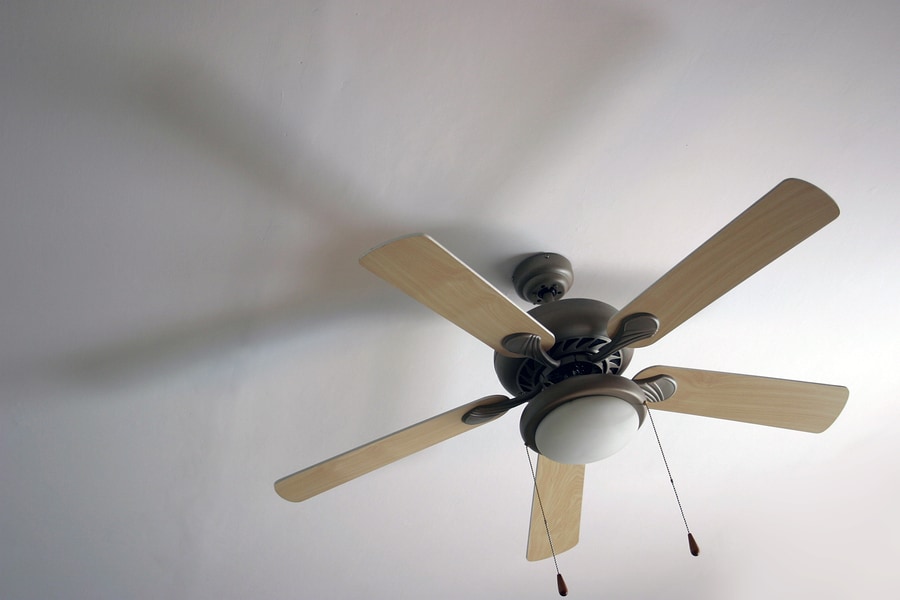 Its summer time in most parts of the world and yes it can gets too hot in most parts of the world. It's time when people start thinking of servicing their air conditioners and room coolers but these are the people who can actually afford them. ACs and room coolers are known for high energy consumption so they are a little too heavy on your pocket. This is where ceiling fans become so affective for the cause.
Getting cheaper and probably tension free cooling during the summers is best possible through ceiling fans. This is one reason that ceiling fans are one of the most wanted electronic items in the world. However, there is a lot more to know about them than you think. In this article today, we will bring some important information about ceiling fans so that you know what to ask the seller when you go for buying and then installing ceiling fans in your house.
Fan Size
According to your room size, the size of the ceiling fan will also vary. Ceiling fans actually have a sweeping effect which draws the air in a particular direction. Hence, the larger the room, the longer should be the length of the fan blades. According to standard sizes, fan blades can be from 29 to 54 inches long.
To know what blade size fits your room best, you may want to measure your room dimensions and then select a suitable fan. Here is a little help in this regards:
Larger rooms from 225 to 400 square feet, a blade span ranging from 50 to 54 inches will be good enough.
Rooms sized between 144 and 225 sq. ft. can be cooled through fan blades as long as 42 to 44 inches.
Blade sizes of 36 – 42 inches are sufficient for 76 to 144 sq ft
75 sq ft rooms or smaller can have blade sized anywhere between 29 and 36 inches.
If you have a luxurious room that has more room than we what we have mentioned, you are better off installing two or more ceiling fans for better performance and cooling.
More reading: 3 Simple Steps to Size a Ceiling Fan
Ceiling Fan Rating
It is not always the rooms that need cooling, it could be your kitchen as well as bathroom which may get too hot and you might need good air circulation there. Ceiling fans for such damp and wet places are especially designed and they have rating mentioned on them.
You should use a ceiling fan with "damp" rating for bathrooms and if there are places where your fan might be exposed directly to water, you may want a "wet" rated ceiling fan there.
Essential Accessories
When you talk about ceiling fans, there are quite a few variables attached to them. All of these variables hold key importance as they directly affect cost and performance of the fans. To make sure that you are purchasing the right products, here is what you need to know about the accessories and integral elements in a ceiling fan.
Motors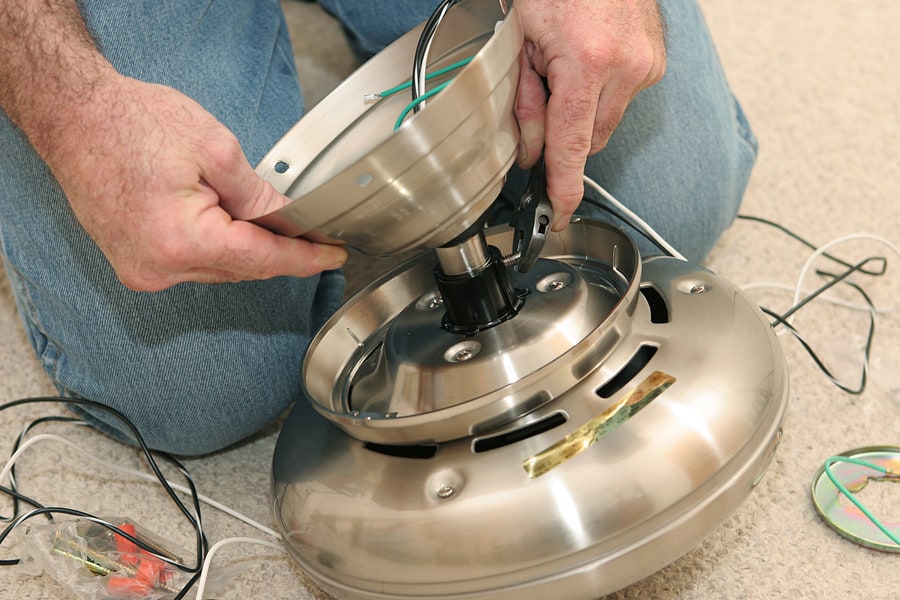 In all ceiling fans, motor is the core ingredient. How fast or slow your fan rotates, power consumption and noise; all of it is dependent on the type of motor that you use. Ceiling fan motors can be classified on the basis of needs an individual may have but we have generalized them to give you a better understanding.
Power consumption can vary from 12 to 250 watts. With high powered motors, you get better air circulation and higher speed. High powered motors keep the noise down. You will be better off searching for high powered windings which comes with sealed and lubricated bearings.
On the other hand, if you opt for low powered motors, the fan speed may not be the best and there will be more noise. Also, the quality of motors can be questionable at times.
Motors are also classified on the basis of their lubrication. There are sealed and lubricated motors which are lubricated at the time of manufacturing and then sealed. There is no need of oiling the bearings because they have sufficient amount of lubrication in them. On the other hand oil bearing motors may require you to lubricate the bearings after a while so which may not be a convenient option.
Fan Blades
The amount of air circulated is directly dependent on the fan blades. The pitch of the blades determines the amount of air that the fan can possibly circulate. Normally, blade pitches having a slope of 11 to 16 degrees is most suitable.
In many parts of the world, blades are made of steel and aluminum but most of the modern ceiling fans now have acrylic and wooden blades. One good quality of these blades is that they are far better resistant to humidity. Hence they are much more durable and the life span of your ceiling fan increases drastically.
When you opt for a ceiling fan blade, focus on the finishing of the blades. Many blades come with thicker painted finishes so they don't wear off easily. Low quality coating tends to corrode and wear off quickly.
You need to ensure that the coating on your blades is good especially if you have installed the fans in your kitchen and bathrooms because there is higher degree of humidity and steam. We suggest you go for wooden blades in such areas but ensure that they are not vulnerable to warping.
Speed Variation and Control
Ceiling fans are always available with different operating speeds. In previous days, ceiling fans could be operated at around six to seven discrete speeds but with time and development, you can now operate a ceiling fan at any speed you desire. However, speed variation that we are referring to is not a built in feature of a ceiling fan. Fans that come with a built in speed variation have three standards speed values. It gives you a lot of freedom when it comes to selecting your desired fan speed.
Another feature that your fan should have is direction control. Ceiling fans can be rotated in both the directions and depends mainly on the user's need. In winters, you can have your fan rotating clockwise to bring down the warmer air.
Mounting Ceiling Fans
Mounting a ceiling fan is quite critical and it has to be nothing short of perfect. Ceiling fans can weigh around 50 pounds and they are above you all the time, there has to be a strong enough mechanism that holds the fans in place all the time.
Types of Mounting
According to standards, a ceiling fan should be around 8 to 9 feet above the ground. There should be at least a distance of one and a half feet from the walls because it would then allow effective air circulation throughout the room. Keeping these standards in mind, there are a few types of mountings for ceiling fans. We will discuss briefly about how and when they should be used.
These fans are mounted right up very close to the ceiling. These fans are suitable for low heighted rooms where there are not too many options of hanging your ceiling fan down.
Extended mounting allows you to extend the length of the hanging rod. These mountings are needed if your room has a high ceiling. The length of these rods can be as much as 10 feet. You will find extended mountings in halls and auditoriums which have high ceilings. You should first measure your room height and then ask your dealer for a suitable length of the rod.
This type of mounting will have a hanging rod length of 3 to 5 inches. These rods come with the packaging when you buy a ceiling fan. They may have a diameter from 0.75 to 1.5 inches.
Thus type of mounting may not be found normally in houses. However, if you have a sloped ceiling say in the attic or garage, you may need a sloped mounting for your fan. It would require specials joists and mechanisms to hold your fan in place.
Location of Joists
Ceiling joists are sufficient to hold your fan in place. However, they should be present in the center of the room if you wish to mount your ceiling fan on them. It is important because the air circulation depends heavily in the location of your fan. In case the joists are not present in the center you may need special ceiling fan brackets.
Wobbly Fans
You must have noticed that you ceiling fan wobbles occasionally or on consistent basis. It has to do with a lot of factors. Firstly, it could be an error in the installation if your fan or it may be that the blades of the fan are not properly aligned. The problem is not too severe and can be dealt with through suitable balancing kits.
Conclusion
Choosing your desired ceiling fan must have become a lot easier for you now as you know the basics of ceiling fans. According to your need, there may be quite a few ceiling fans that you can choose from so it's now time you choose what suits your budget.