More Convenience with Remote Control Ceiling Fans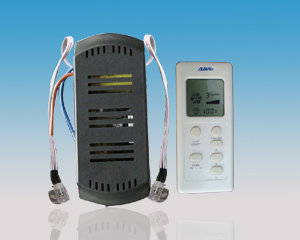 Ceiling fans have been with us for more than a century, and they've been changed to meet our needs according to the modern trends and fashion. They were there when there was no concept of digitalization. Now, ceiling fans have become quite sophisticated, running on our finger tips without giving us any trouble to move.
Ceiling fans with remote control operate just like the way remote-controlled televisions work. With the help of a handheld device, you can do a lot of things that used to be done manually:
You can set the fan speed,
Adjust the direction in which the blades rotate,
Set the degree of lighting.
Ceiling fans with hand-held remote control device have gained a lot of popularity. Manufacturers such as Hunter remote ceiling fans offer hand-held device as the basic component of the ceiling fan.
Advanced Settings
Apart from the basic functions mentioned above, there are several different advanced settings that vary with the model and the make. Some of them include:
Automatic dimming lights
Automatic fan-speed adjustment after certain time period
Automatic on/off feature
Remote controlled ceiling fans are available in a wide range with respect to finished and styles. You can buy hand-held remote ceiling fans for indoors and outdoors, based on your requirements.
How to Install a Remote Control Ceiling Fan
Remote-controlled ceiling fan installation is quite easy. With all the steps included for
installing a traditional fan
, there are few additional steps when you are installing a ceiling fan with hand-held device.
While installing a ceiling fan with remote control, make sure that the signal receiver should be installed, and properly wired, into the canopy of the fan. Don't think it is too difficult. It is as easy as normal wiring.
Make sure that the hand-held remote should have powerful and long-lasting batteries. Test the fan-speed, forward/reverse direction and lighting functions after powering your remote.
3 Basic Operating Tips
Create a Unique Frequency Code
You may have experienced that the ceiling fan remote cause functional issues in other appliances. Same can happen with other remotes when they cause operational issues in your ceiling fan.
This is because of the factory setting which is generally the same for all ceiling fans of the same model. Instead of ending up with a rogue fan that will put you in trouble with functional issues, set unique fan frequency code that will save other appliances.
You can do the following to avoid this particular issue:
Read the manufacturer's manual carefully to check the factory setting.
Ask the installation technician if he can change the frequency and set it to a unique frequency.
It is better to set a unique code for your ceiling fan, because you may want to install the same model in another room, or perhaps your neighbors decide to install the same fan for their home.
What if You Lost the Remote
That's a common thing these days. With so many appliances having different hand-held devices, people tend to forget where the put one that controls one particular appliance. Although, you'll get frustrated thinking about the replacements, it's not all that difficult if you think carefully.
You can call the manufacturer to get the replacement
You can buy a universal remote control that controls the light and fan, then change its frequency code to control the fan only
Cleaning is Important
Cleaning your ceiling fan's remote control is not a complicated task. In order to prevent germs, do the following cleaning steps:
Method:
Dampen the towel with everyday rubbing alcohol. Don't soak it though.
With the help of the towel, gently rub the entire remote including its buttons.
To extra-clean the buttons, you can use Q-Tips.
Precautions:
Be careful while cleaning, not to shift or knock the remote buttons.
You can cover the remote with a thin plastic sheet, in order to prevent dust particles settling on it.