How to Tell between Good, Better, and Best Quality Waffle Makers
Waffles make an excellent breakfast treat. Kids and adults both love that these delicious treats can have a variety of tasty toppings added on them. That is why it is good to have a waffle iron at home to satisfy the waffle cravings. If you don't have one and are looking to buy a new waffle maker, then there are some things you need to consider before making that purchase.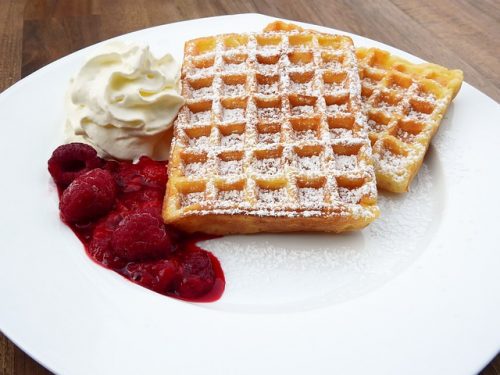 Fortunately, there is a lot of variety in the marketplace when it comes to waffle maker selection. You can find affordably priced models and ones that are on the expensive side. Some waffle makers do the decision making for you as far as the cooking goes, and for other waffle makers, you make choices when it comes to the cooking settings. There are definitely different quality levels of waffle makers out there. Here are some of the key features found across the different levels.
Good Quality Waffle Makers
Inexpensive – Generally speaking these waffle making units are not full of features because they are designed to keep the price of them down. They are geared more towards the very occasional waffle making person. They still tend to make very good tasting waffles.
Non-stick surface – Easy cleanup is a huge advantage for any type of waffle maker. Dried waffle batter can be extremely difficult to clean, so it is best to get a waffle maker with a good non-stick surface.
Even heating – These model waffle makers are designed to be simple to operate. Many times they will only have one or two heat settings built into them. This keeps the cooking process very simple for sure.
Fold up for storage – It used to be the case that waffle makers were known for taking up too much room on countertops or in kitchen cabinets when they were not in use. That is no longer true for most waffle makers today because many fold up and lock so they can be stored much more conveniently.
Better Quality Waffle Makers
Cool Touch Handling – On many improved model waffle makers handling them without having to worry about getting burnt hands and fingers is much simpler. Many of these models have handles and other attachments on them that don't get hot to the touch as you're cooking.
Overspill channel – Not only is it nice not to have to clean non-stick cooking surfaces on your waffle maker, but this convenience goes one step further if your waffle maker has an overspill channel. These will catch the excess batter and cook it, so it easily wipes off when you are done baking your waffles.
Adjustable heat settings – It's nice to have some control over the heat as you are cooking your waffles. Many waffle making products have temperature adjustment switches built right into them.
Bigger cooking surface – Another common feature of higher quality waffle makers is increased size. This will allow you to cook fewer batches of waffles to feed all the hungry mouths at your home.
The Best Quality Waffle Makers
Superior non-stick surface – On most high-quality waffle makers their cooking grid surface usually goes above and beyond just simple coated cooking grid surfaces. They usually have the latest advances in safe non-stick coatings, or the entire cooking grid is made of superior metals like aluminum.
Flip top – There is nothing worse than only getting ¾ of a waffle from your batter pour or getting inconsistent browning. All this can be avoided if you have a flip top handle on your waffle maker that lets it rotate 180 degrees to evenly distribute the batter over the entire cooking surface.
Multiple browning control settings – If you are the type of person who likes to be able to control how the outside of their waffle is cooked then you need a higher quality waffle maker. Many of these have several preset browning adjustments that will help you get the crispiness of your waffles exactly how you like them cooked every time.
Waffle ready indicator light – What is easier than setting a timer to know when your waffles are done? That would be a model that has an indicator light that tells you when your set cooking cycle is done.
Removable grids – If you want a waffle maker that is exceptionally easy to clean then you want one that not only has non-stick cooking grids but one that has removable cooking grids as well. Waffle maker cleanup could not be easier than with this type of cooking grid setup.
It's up To You to Decide
So, you have many choices when it comes to purchasing a waffle maker. The first choice is typically whether you prefer classic or Belgian style waffles. Once this is decided the search is on for the model that will work best for you.
Any one model will not have all the features you would like at the price you would like to pay. The most important thing is to select a waffle maker based on your budget and one that has the key waffle maker features that you value most.